Gulf Hoppers
Price listed as per pound of shrimp.
Support Local
Fast Shipping
Secure Payments
Description
Fresh, Locally Sourced Gulf Brown Shrimp
Sourced right near our docks in Madeira Beach, Florida, our Gulf Brown Shrimp are always delivered fresh to your door. With sustainable fishing in mind, Wild Seafood Market adheres to the strictest fishing regulations from both the local state and federal level regulatory committees.
Gulf Brown Shrimp product options
We primarily offer our fresh-caught Gulf Brown Shrimp in one of two ways;
Head-On: Simple as it sounds, we leave the head on the shrimp. Many shrimp lovers use the head of the shrimp for everything from soups to sauces.
Head-Off: Most commonly, these shrimp will be cooked and by removing the head of the shrimp, we are simply saving the chef some time in the kitchen. For obvious reasons, we charge a bit more per pound for Gulf Brown Shrimp with the head removed before calculating the poundage.
What are the health benifits and nutritional values for Gulf Brown Shrimp?
Gulf Brown Shrimp are a great source of Omega-3 and Omega-6 fatty acids as well as protein. Per 113g of this raw shrimp, you can get 23g of protein and 2g of total fat. Eating shrimp in general gives you skin protection, provides a good amount of selenium, as well help in increasing good cholesterol in the body.
Shrimp also helps lower appetite because it increases production of a hormone called CCK; it's a hormone in the stomach that stops hunger. A single serving of shrimp also provides 4mg of astaxanthin, an antioxidant that is great for repairing brain cells and muscle tissues.
Saturated Fatty Acids: 0.3 g
Protein: 23 g
Cooking Shrimp Kabobs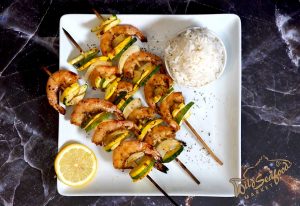 Our sweet Gulf Brown Shrimp are an excellent choice for grilled kabobs. We recently put together an easy-to-follow recipe for our customers to cook up some the tastiest shrimp kabobs ever. check it out right here.