Contact
& customer support
Customer Service
For immediate assistance, please call us during our regular business hours.

Be sure to check our Frequently Asked Questions (FAQs) below to see if your question has already been addressed.
Our location
We've gone digital! Wild Seafood Market is no longer operating out of Don's Dock. Get the best price on wild-caught seafood by ordering direct from the supplier and having it shipped directly to your door.
We ship orders out of Pinellas County, Florida.
We do not have a public market.


Market Hours
*Disclaimer: Our office staff often helps out on the dock, hence we are not always near the phone.

Monday: 7AM – 6PM
Tuesday: 7AM – 6PM
Wednesday: 7AM – 6PM
Thursday: 7AM – 6PM
Friday: 7AM – 6PM
Saturday: 7AM – 6PM
Sunday: 7AM – 6PM

Contact form
For after-hours support
Don's Dock Info
Wild Seafood Market is located within Don's Dock Marina. Don's Dock Marina is located at the East end of John's Pass, on the water, below the main boardwalk (first floor). For more information about Don's Dock, click here.
FAQs
Absolutely! Wild Seafood Co., its charter boats, and the captains of those charter boats strictly adhere to all environmental regulations placed by the Florida Fish and Wildlife Conservation Commission. In addition, we take it a step further by implementing the Gulf Wild program created by one of our founders.
Most of our seafood is completely local, being caught right off our shores in the deep waters of the Gulf of Mexico. When you see a 'Whole Fish' for sale, it's one we caught. We specialize in Grouper and Snapper species but also provide a wide assortment of fish. Our Shrimp are sourced in Florida however we are not always the direct supplier of them. We do occasionally also source seafood such as Maine Lobster and Scallops, which are IQF (individually quick frozen) for freshness from the Northern states.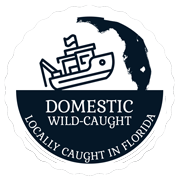 In short, most fish sold by Wild Seafood Co. is retailed as whole fish. However, there are some exceptions such as our Amberjack fish, Cobia, and Gag Grouper which are sold as fillets. This is due to the sheer size of some of these species and the limits of our shipping coolers. If you reside in Pinellas County, FL you can get around this by selecting "local pickup" in the checkout section during online ordering. Be sure to include "Do not filet" in the 'special instructions' area if you decide to follow through with this method.
Our charter boats collect their fish right in the deep waters of the Gulf of Mexico. Guaranteeing not only freshness but catching local allows us to give back to our wonderful and supportive community.
We restock our product about twice a week when our charter boats come back in from their fishing expeditions. The goal of Wild Seafood Co. is not only to provide you with a great product but a fresh product as well. This is promised by our swift shipping and the consistent rotation of our stock.
Wild Seafood Market Online only operates digitally. We ship orders from Pinellas County, Florida, however we no longer have a physical market.
The bar code tag on your fish is the tracking component of our Gulf Wild program. This system allows you to follow the seafood you purchased from the hook it was caught on all the way to your dinner table. Further information on the program and its benefits can be found here at, https://wildseafoodco.com/.
The Gulf Wild program is a fish tracking system that was created "by the fisherman, for the fisherman". This program, implemented in 2011, places traceable fish tags on all fish caught so consumers can see where it came from when it landed, and how long it's been on ice or in transit. It enforces accountability and eco-friendly fishing practices so we can continue to enjoy the deep waters of our Gulf far into the future. This is especially effective when local consumers look for, and purposefully buy fish with the Gulf Wild tag.
We provide a range of seafood including various crab clusters and claws, multiple types of shrimp, scallops, and oysters. Further details on these items can be found under our 'Shop Online' tab or by clicking the 'Seafood Market' button.
In comparison to other retail stores that sell similar seafood, our prices come out to be much more affordable. This is only possible as we are the supplier. In other words, we cut out the middle man, and by ordering from us your buying directly from the source.
Most of our fish are priced per pound of whole fish, with the average pound of whole fish yielding about 35% once filleted. Items such as our shrimp are given a count per pound meaning a measurement of 16/20 translates to 16 to 20 shrimp per pound.
Specializing in a plethora of Grouper and Snapper species, our boats unload multiple times a week. We supply the local Pinellas County region with tens of thousands of pounds of whole fish month. Our small market open to the public is an ever-spinning revolving door of fresh fish.
Depending on what day you place your order, it's possible the fish on your table were caught just 36 hours prior.
No. Wild Seafood Market is only an online market where you can buy the freshest fish and shellfish – all wild-caught in the Gulf of Mexico. If you're looking for fresh and in-stock fish or shellfish, view our online market here. We sell whole or filleted fish and shellfish by the pound.

What we have on stock on our website depends on which of our boats are fishing and which areas they fished. We stock a variety of fresh fish from snapper, grouper, Blackfin tuna, Amberjacks, etc. Our shellfish stocks usually include shrimp, stone crab claws, lobster, and scallops.
Yes. Wild Seafood Market is an online seafood retailer offering a variety of fish and shellfish. If you're looking for fresh, local, and wild-caught fish that can be delivered right at your doorsteps, Wild Seafood Market is the place to go. We sell the freshest snapper and grouper in Florida and much more.

Wild Seafood Market is a direct supplier of fish. When you buy direct from us you cut out the middle man. Thus, you can get the best fish available at the best prices. Depending on the size of the fish, we'll ship them to you whole or filleted.
Shipping FAQs
The swiftness of our shipping depends on where you're ordering from and when you do the ordering. Any orders placed outside the state of Florida are strictly overnight to preserve freshness. Ground shipping times for residents vary depending on what time the order is placed but is generally either same day or next day shipping.
The cost of shipping depends on how much product you buy and where it's being shipped to. For instance, about 4lbs of product delivered locally to St. Petersburg with ground shipping would be around $15. However, shipping the same amount of product overnight to somewhere as far as Atlanta, Georgia will cost around $100. Hence, if you're ordering from out-of-state, be sure to get your money's worth by getting your total order weight as close to 10 pounds as possible.
We provide three primary shipping options via UPS.
– Overnight shipping (for those who live outside of Florida or Floridians in a hurry)
– Ground shipping for Florida residents only.
– Local Pickup is no longer optional.
No. We no longer operate a physical market. Our team is likely out, deep in the Gulf of Mexico bringing in the freshest fish this side of Florida.
No, sadly we do not ship outside of the United States. This is done to preserve freshness and so we can provide our customers with the highest quality product possible.
For some of our products, such as the Key West Pink Shrimp, you can save on bulk purchases. On this specific selection, you can save $2 on 5lb bulk orders! Keep an eye out at the very top of the site for the most current special or coupon code. Also, when you build your shopping cart, try to keep the total order weight close to increments of 10 pounds or below. Due to the size of the coolers, we have to use a second cooler at the 10-pound limit.
We ship Monday through Thursday at 3pm EST. Orders placed before 1pm on Monday through Thursday will ship the same day. All orders placed after 1pm on these days will be scheduled for next-day shipping. Lastly, all orders place after 1pm on Thursday or anytime Friday through Sunday will ship the following Monday. However, if inputted in the 'Special Instructions' section during checkout you can have your order shipped a day later.
At the moment, we simply do not have a great solution for out-of-state shipping. The fee we charge our out-of-state customers is actually often less than what we actually pay.
The simple factor behind the high cost: Overnight shipping of heavy boxes is far from cheap. We use UPS, which we trust to get your seafood to you fast, however, this service comes at a steep rate.
No, not really.
We offer a 24-hour max hold on all orders.
We will hold shipments for no more than 1 full day. As our seafood is fresh, not frozen, and we only sell what we have on hand, we cannot hold shipments for long periods of time like many of our freezer stacking competitors.

Use the 'Special Instructions' section during checkout to have your order held for a day rather than the next outgoing shipment.