The Wild Seafood Market Experience at John's Pass
Wild Seafood Market offers anyone the ability to serve up the best tasting seafood dish in the comfort of their own kitchen. As a bonus, due to its location at John's Pass Village, the market also offers a unique experience of epic views and the option to watch experts fillet fish directly on the dock.
Firstly, Enjoy John's Pass Village and Boardwalk
At John's Pass Village you can enjoy over 1,000 feet of boardwalk to stroll while admiring a glittering ocean view along this Intracoastal waterway. Created in September of 1848 by an aggressive hurricane that parted the land, Johns Pass was discovered by a pirate of the name John Levique. This is of course how the now turn-of-the-century fishing village received its name.
In 2022, Johns Pass continues to stand ground as Pinellas County's #1 tourist attraction with over 100 merchants that have set up shop there. Options are endless with an array of restaurants and retail stores to sift through as well as exciting family-friendly activities. For instance, there are local fishing charter boats, dolphin sightseeing tours, boat rentals, parasailing, jet-skiing, and more. Additionally, many nights at Johns Pass are a host to live music at their various bars. The pearl white sandy shore of Madeira Beach also just steps away from 'The Pass' as the locals call it.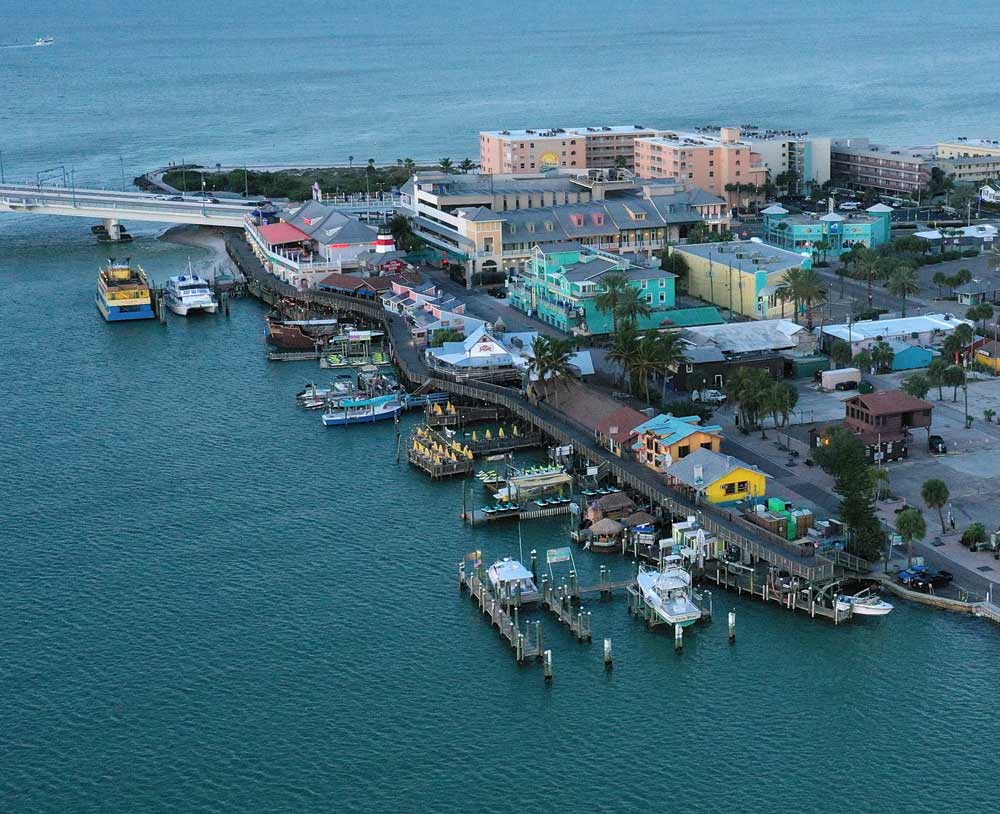 Florida's Best Fresh Fish | Full Experience
Once you've walked the boardwalk and had your fill of 'The Pass', come on down to Wild Seafood Market to pick up your own fish for a delicious dinner.
Customers to the market choose among a wide array of fresh, whole fish. Once selected, our experts will fillet the fish any way you choose, whether you just want it scaled and prepped for the grill or fully filleted. Whether you're buying fish or just visiting, everyone is welcome to watch as the expert makes quick work of the fillet. Not only does this help you save time in the kitchen, it may also act as a teaching experience for any young passionate fisherman in the family. What's more? Scraps are tossed off the dock to an ever-ready flock of pelicans quick to devour every morsel.
What Makes This Market's Fish So Special?
All fish offered at Wild Seafood Market are sourced by our very own fleet of deep-sea fishing boats which depart from our dock and offload multiple days a week. Along with freshness that can't be beaten, the Wild Seafood Market difference is seen in how the company sources its seafood. Strictly adhering to local and federal regulations is just the start of this companies effort towards sustainable fishing. The owner of Wild Seafood Market, Jason DeLaCruz is also one of the founders of Gulf Wild, a system in which fish are tagged and trackable from where they were initially caught, all the way thru the delivery and the potential retailers along the way.
Does Wild Seafood Market Have a Big Variety of Seafood?
Wild Seafood Market offers an array of options, from snapper and grouper to shrimp and stone crab claws. Stock and prices do vary dependent on the season, weather conditions and demand though you'll more often than not find an excellent option for your dinner. They also offer online purchasing with the option to pick up in person at the market at Don's Dock. What's Don's Dock? Technically speaking, Wild Seafood Market is located inside Don's Dock within John's Pass Village.
If you're thinking of enjoying the Wile Seafood Market experience, and hope to take home some fresh seafood, be sure to view the company's online market to see what's in stock and know before you go; online seafood market.