Gulf White Shrimp
Support Local
Fast Shipping
Secure Payments
Description
Wild-Caught Gulf White Shrimp
Our company, Wild Seafood Market, serves only the best Wild Caught Gulf White Shrimp to our customers from Florida to California  for maximum taste bud satisfaction. The product is Individually Quick Frozen (IQF) just like our Key West Pink Shrimp and caught offshore to provide ultimate freshness and quality. Furthermore, these mild and tender shrimp arrive either frozen or partially defrosted. It's important to remember that they're also delivered raw in order to sustain their natural, unprocessed flavor making proper cooking or preparation of utmost importance.
Are These Shrimp Sold By The Pound?
Our shrimp count refers to the size, meaning 26/30 translates to an average of 26 to 30 shrimp per pound. Consequently, a size of 16/20 per pound would simply be less shrimp in number but larger in size per pound in comparison to the 26/30 selection. Here at Wild Seafood Co., we not only give our customers the highest quality product but do so at a fair price. In other words, you can continue your smart shopping by purchasing a larger amount of products and saving money by doing so. For example, at our online wild-caught market you can save $2 for every 5lb bulk purchase. It's as easy as selecting the 5lb option on our sizing menu to automatically receive your discounted price.
Are The Shrimp Already Shelled and Deveined?
All customers can choose to either have their shrimp delivered with the head/shell on or opt to have the head, shell, and veins removed before arrival. These options are easily visible under our "shrimp size" drop-down menu.
Online Ordering & How We Ship Our Gulf White Shrimp
Wild Seafood Market is brought to you by our quality-driven Wild Seafood Co. with charter boats departing right off Johns Pass in Madeira Beach, Florida. We provide a secure online checkout to take any stress off the ordering process for your personal leisure as customer care falls directly in line with our product care motto. Furthermore, all product is caught locally in the Gulf of Mexico and shipping extends to anywhere in the United States. Note that Florida orders receive special focus with all residents of the state able to receive extra savings by selecting 'group shipping' in our options selection.
What are the health benefits of Gulf White Shrimp?
In general, shrimp are great sources of omega fatty acids, protein, and antioxidants. For every 113g serving of a raw Gulf White Shrimp, gives you 23g of protein, 61.5mg of calcium, 1.8mg of iron, and 280mg of potassium. It is also a great source of selenium, which is great for maintaining heart health. Your body needs selenium to fight off cardiovascular diseases as well as type 2 diabetes.
Saturated Fatty Acids: 0.3 g
Protein: 23 g
Eating Gulf White Shrimp will also give your body a good among of Omega-6 and Omega-3 fatty acids. The latter is not only good for your heart and immune system, but it also contains an antioxidant called astaxanthin. This is an antioxidant that helps protect the skin against premature aging.
Cooking Shrimp Kabobs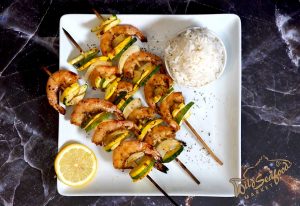 Grilled shrimp kabobs are one of our favorite dishes when it comes to any of the fresh shrimp we source, including the Gulf White Shrimp you see here. If you're looking for the perfect recipe for these beauties, check it out right here.
Additional information
| | |
| --- | --- |
| Shrimp Size | GWS 26/30, GWS 26/30 5lb Discount, GWS 16/20, GWS 16/20 5lb Discount, GWS 21/30 Peeled and Deveined, GWS 21/30 Peeled and Deveined 5lb Discount |