How to Buy Fresh Grouper Online
In the digital age, the freshest catch from the ocean's depths is just a click away. For seafood aficionados and culinary enthusiasts alike, the allure of succulent grouper, renowned for its mild yet distinct flavor, has become a staple for online shoppers seeking the highest quality. Our company, with its own fleet of fishing boats, brings the Gulf's bounty directly to your doorstep. We pride ourselves on providing not just seafood, but an unparalleled experience of freshness that only a direct line from sea to table can offer.
Whether you're a seasoned chef or a home cook, our online store simplifies the process of acquiring premium, fresh grouper. By choosing us, you're not just buying fish; you're embracing a tradition of quality and sustainability. Dive into our guide on how to buy fresh grouper online and discover the top five varieties, including the popular Red Grouper, all revered for their unique tastes and textures. Join us as we navigate the world of online seafood shopping, where convenience meets quality without compromise.
Why Choose Grouper?
Grouper stands out in the seafood selection for its culinary adaptability and nutritional value. Whether it's the star ingredient in a hearty stew or the centerpiece of a grilled masterpiece, grouper's firm flesh and mild taste make it a versatile choice for any meal. It's not only delicious but also packed with lean protein and essential omega-3 fatty acids, promoting a healthy heart and mind. When you choose grouper, you're selecting a fish that's as beneficial for your health as it is pleasing to your palate.
Understanding Grouper Varieties
The Wild Seafood Market's Commitment to Quality and Sustainability
At Wild Seafood Market, we don't just sell fish; we ensure each grouper carries the promise of unparalleled quality and eco-consciousness. Our adherence to the 'Gulf Wild' tag tracking system is a testament to our dedication to sustainability. This meticulous system allows customers to trace their grouper's journey from the Gulf waters to their tables, guaranteeing authenticity and responsible fishing practices. We champion the balance of marine life by enforcing catch limits and seasonal guidelines, safeguarding our ocean's health for future generations. Choosing us means supporting a company that's as committed to the environment as it is to culinary excellence. Learn more about Wild Seafood Market.
How to Order Fresh Grouper Online
Ordering the finest grouper from Wild Seafood Market is a breeze with our user-friendly online platform. Here's how you can ensure your kitchen is stocked with the freshest catch:
Navigate to Our Website: Begin by visiting the Wild Seafood Market homepage. Our intuitive design makes it easy to find exactly what you're looking for. Via the "Shop Online" section you'll find our available in stock Fresh Grouper page (or click here)

Now, we know this article title doesn't specify that you should order Grouper online from us, and there may be instances where ordering from us just isn't possible. That's okay. In fact we don't always have Grouper in-stock so you might have to source it elsewhere. When doing so just make sure that the company has a focus on sustainability and a track record for delivering wild caught, fresh grouper.
Select Your Grouper: Browse through our selection of grouper varieties. Each listing provides detailed descriptions, flavor profiles, and recommended recipes to guide your choice. It's possible we only have one species in stock as is the case at the time of writing this article.
Choose Your Fish: Decide on the size of grouper you need. We cater to all order sizes, from individual meals to large gatherings. From the drop down you will see sizes in poundage. If we are low on stock you might only see a few options. Our site is strictly tied to our available fresh inventory.
Place Your Order: Add your selection to the cart and proceed to checkout. Fill in your delivery details, choose a payment method, and confirm your purchase.
Track Your Grouper: Once your order is placed, you'll receive a tracking number. Use this to follow your grouper's journey from our boat to your doorstep.
Enjoy: With your order complete, all that's left is to await the arrival of your fresh grouper. Get ready to enjoy the finest seafood brought straight to your kitchen from the Gulf waters.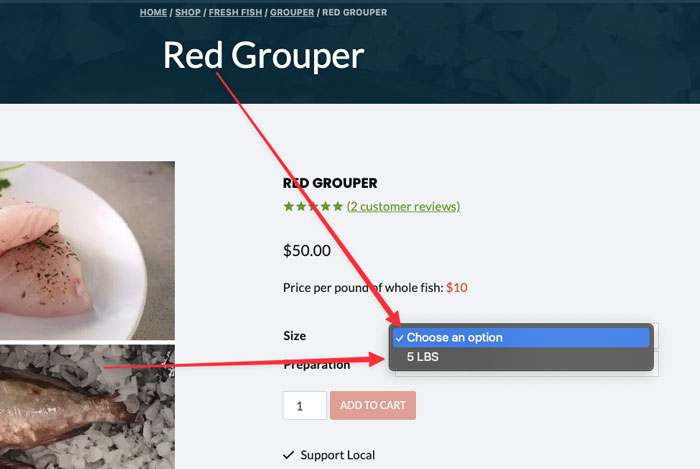 In Closing
Embarking on the online purchase of fresh grouper with Wild Seafood Market is more than a transaction—it's a step into the world of responsible, gourmet seafood selection. With our fleet's direct catch and the transparent 'Gulf Wild' tracking, you're guaranteed not just freshness but a commitment to sustainability and quality. Whether you're grilling a Red Grouper or baking a Scamp, each variety offers a unique, delectable experience. We've streamlined the process, ensuring your journey from selection to delivery is seamless and satisfying. Dive into our offerings and let the unmatched taste and purity of our grouper elevate your next meal. Welcome aboard the Wild Seafood Market experience, where every bite tells the story of the sea.